UPDATED: This giveaway is now closed!
Winners are…
#7- Stephanie H.
#72- Deborah
#113- Sue D.
#200- Katie P.
#207- Maria P.
Congrats to you all!  Emails have been sent!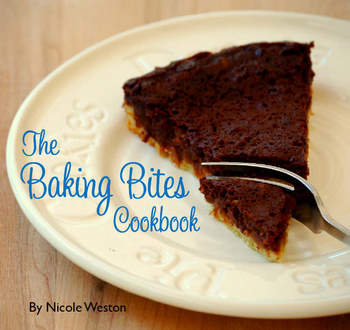 Last year when I went to visit the Smuckers Headquarters, I met Nicole from Baking Bites. The Smuckers Food Team made a few of the different recipes that we had posted on our sites for breakfast. I took one bite of Nicole's Jelly Filled Donuts (recipe in her cookbook), and I about started drooling right there. (Probably not the smartest thing to do while conversing with the CEO of Smuckers!)
I've got a bit of a sweet tooth. And I don't make many desserts on purpose! But when I do bake, I like to bake fun and different treats to munch on! If you are a baker looking for some new recipes to try, then this cookbook is for you…
Chai Spiced Coffee Cake
White Chocolate Oatmeal Crunch Brownies
Cinnamon Struesel Banana Cake
Today I'm giving away 1 copy of The Baking Bites Cookbook by Nicole Weston to 5 fellow sweets lovers! You'll get 51 fabulous new recipes to satisfy that sweet tooth.
To enter the giveaway, follow the rules below!
Giveaway Details
1. Contest ends Friday, May 7th at 10 pm EST. Winners will be announced back here on this post, and notified via email with further instructions.

2. Entry #1: Leave a comment sharing your favorite dessert and why!
3. Entry #2: Follow me on Twitter and leave a SEPARATE comment. (If you don't tweet, it's TONZ of fun and you should join in!)
4. Entry #3: Become a Facebook Fan, or subscribe by email or in an RSS reader! Be sure to leave another comment for your third entry. 🙂

5. Winner will be selected by Random.org.
**NOTE: If you receive the email newsletter and wish to enter this giveaway, click here to get to the site and leave a comment on the site with your name and email address to be entered!
*Disclosure: I did not receive anything in conjunction with this giveaway.