Heather shares her family's recipe for Arroz con Pollo…this was one of our favorite from our time down in the Dominican Republic!!
One of my favorite frugal dishes is Arroz Con Pollo (Chicken and Rice). A total comfort food for me and my family, it's a low cost meal that doesn't feel low cost at all. I've tweaked this recipe a lot over the years and I've finally settled on a version of it that my family loves. With cooler temps about to set in, it's the perfect meal to cozy up with on a cool fall night. Serve alone or with some pinto beans and a salad.
Arroz Con Pollo

Yield – 4 servings

Preparation Time – 10 minutes

Cooking Time – 40 minutes

Ingredients

4 chicken thighs
2 cups chicken broth
1 cup white rice (you can use brown, but it just doesn't feel authentic in this dish to me)
1 diced onion
1 diced bell pepper (we like to use red)
1 tbsp Olive oil
Salt and pepper, to taste
1 tbsp oregano
1 tbsp cumin
Optional: Sazon (a little packet seasoning found in the Mexican Food aisle, not necessary but adds so much flavor!)

Directions

Heat a drizzle of olive oil in a large pot. Heat chicken 5 minutes per side and set aside in a container with a lid.
Add onion and bell pepper and cook until the onions are translucent and the peppers are softened.
Pour in rice and let it cook for a couple of minutes. Stir it around a bit…this part is essential for the smoky flavor of the meal. Add salt and pepper (you can add more to taste once the dish is done), cumin, oregano and sazon.
Pour in the broth and add the chicken back in. Bring to a boil.
Put the lid on the pot and lower to a simmer. Cook for around 15-20 minutes or until rice is soft.

Enjoy!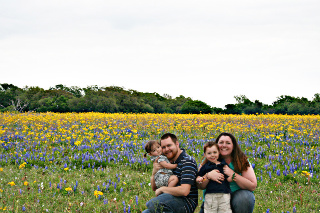 Heather is a married mom of two in Houston, Texas. She is incredibly passionate about saving money and having fun while doing it! Her family is a great source of inspiration for her to work hard at saving money and finding fun and frugal ways to lead a high quality life. You can find her blogging at Family Friendly Frugality.