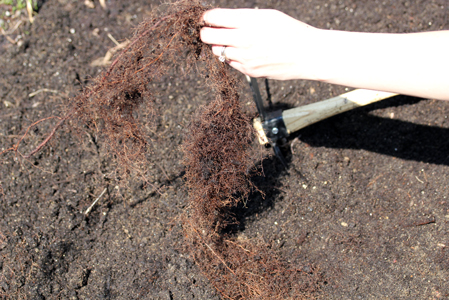 Tilling
See those roots?!  Those are the reason that my hamstring muscles were sore from Monday through Thursday.  Those were the reason I was walking a little slower than usual on Tuesday. Those were the reason I could barely get through my 4 mile run on Friday morning…my legs still felt like lead!
As I started tilling the garden on Sunday, I quickly realized that I was in for it.  I pulled up quite a few "root systems" and they were tough…I ended up asking Steve to get some scissors to cut out some of them!  I'm glad to have pulled them out, as the soil is now nice and loose…ready for fertilizing!
I plan to till the other 4×4 planter this weekend, weather permitting.  And I plan to spend the rest of next week walking funny again!
Fertilizing
I have a new fertilizing plan this year!  I'm following Mel's advice in his book Square Foot Gardening. I'm going to apply a strong fertilizer at the start of the season, and then apply a basic balanced fertilizer once a month throughout the summer. I'm excited about this plan and hope that it helps my veggies grow, grow, grow!
(No, I don't have a compost. Yet. I hope to start one soon…it's next on my "garden project" list!)
Planting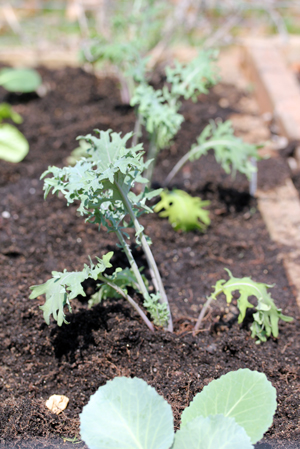 I have 3 kale plants (the funny spiky leaves) in the garden, along with 3 cabbage plants (forefront of the picture). I also planted some Buttercrisp lettuce, Swiss chard, Romaine lettuce, and spinach seeds. The seeds should be sprouting middle of next week and I hope that the warm weather doesn't set in too quickly and kill them (like it did last year!).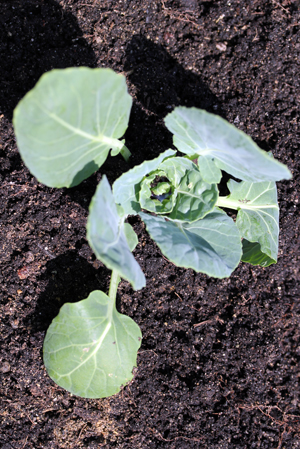 And here we have the Brussels sprouts plants. I got 3. Because I am a "mean" mom and make my kids eat Brussels sprouts! I've never grown Brussels sprouts before, but I love how they grow and I'm hoping they turn out in the garden!
I also planted 3 new pollinator plants for my "squash garden," which is in a small in ground patch next to our patio.  I planted yellow squash and zucchini seeds as well.
Square Foot Gardening
I follow the Square Foot Gardening method and have devoured the book from cover to cover a number of times!  The reason I chose SFG is because I have very limited sun space in my backyard and have had to build 2 planters that sit out our back patio.  We have 48 trees on about a half acre lot, so there any "in ground" space on our property that gets full sun.  So planters on the patio it is!
Gardening Expenses for 2011
Bonemeal ~$10
Bloodmeal ~$10
Veggie plants and herbs ~$35 (thus far, I still need to get tomatoes)
Critter Ridder ~$10
3 Pollinator Plants – $12
So how is your garden shaping up?!  Have you planted any cold weather veggies…or any and all veggies for those southern friends?!