College students, want to impress your parents? Husbands, your wives? Anyone want to impress company?? Then THIS is for you.
Oh, yeah, I guess you can feed it to the kiddos too!
I am eating the baked cheddar chicken right now as leftovers. And I do not eat leftovers.  Luckily for me, unfortunately, my husband left his lunch at home today so it's all mine. 🙂
This is very easy to prepare, but get ready for all the compliments afterwords.  I would say it's definitely a "need to make dinner for company recipe!" It even looks like you spent a lot of time on it!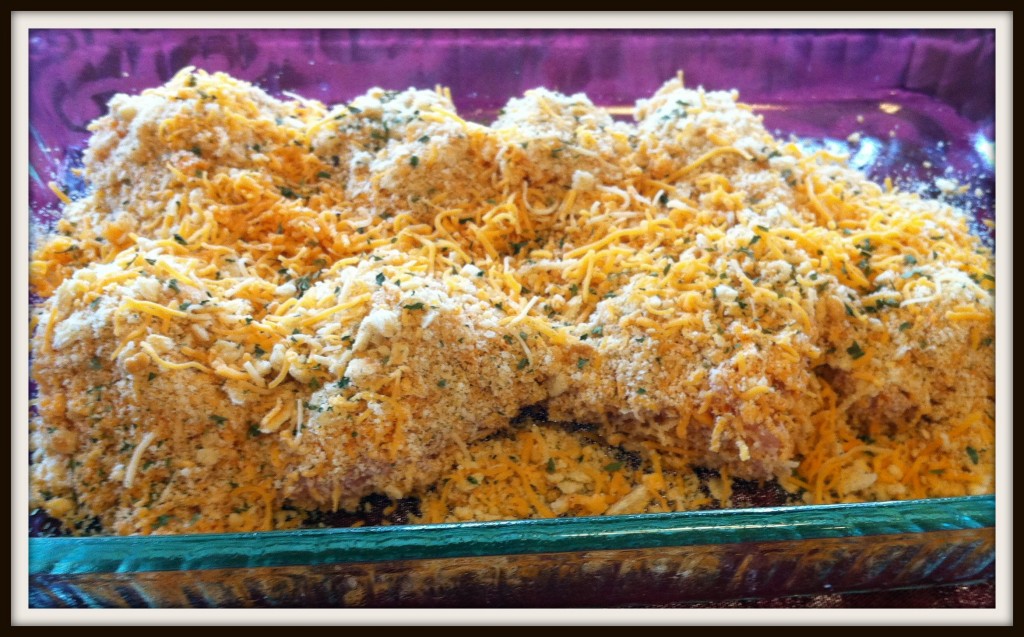 After the chicken is in the pan, I just dumped the left over cheese & cracker crumbs on top of it. I love crust.
Baked Cheddar Chicken

Yield – 7 servings

Preparation Time – 15 minutes

Cooking Time – 40 minutes

Ingredients

5 large boneless, skinless chicken breasts
1 sleeve Ritz crackers
Salt and pepper, to taste
1/2 cup milk
3 cups shredded cheddar cheese
1 tsp dried parsley
14 oz. can cream of chicken soup
2 Tbsp butter
2 Tbsp sour cream
Fresh veggies, as side dish
Favorite side dish like rice, pasta, or mashed potatoes.

Directions

Preheat oven to 400 F.
Cut each chicken breast into 3 large chunks.
In a gallon size baggie, smash ritz crackers into crumbs. (The kids love this part)
Pour the milk, cheese and cracker crumbs into 3 separate small pans. Toss the salt and pepper into the cracker crumbs and stir the mixture around to combine.
Prepare a 9×13 baking dish by spraying it with non-stick cooking spray.
Dip each piece of chicken into the milk, cheese & crumbs in succession, and lay in the prepared pan.
Sprinkle the dried parsley over the chicken in the pan.
Cover the pan with foil and bake for 40 minutes, until the chicken is thoroughly cooked.
Combine the cream of chicken soup, sour cream, and butter in a small sauce pan on the stove and heat until mixed together and warm.  Spread the sauce over the chicken prior to serving.
Prepare fresh veggies.
Serve Baked Cheddar Chicken with fresh veggies.