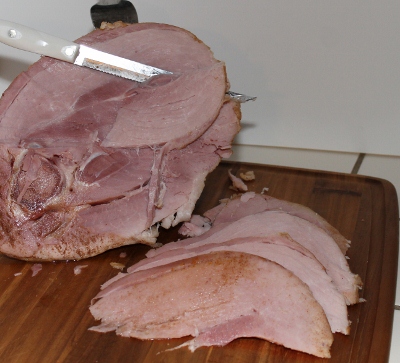 I love being able to serve Sunday dinner shortly after arriving home from church. But I don't like leaving the oven on while we are gone. I do feel comfortable leaving the slow cooker on, so I occasionally use it to make Honey Glazed Ham.
I can cook the ham for one hour on high, then turn it to low before we leave and arrive home to a delicious ham. Once home, all I have to do is quickly saute some veggies to go with the ham while my husband slices it and my kids set the table. Then we can sit down and enjoy a low-labor, but fairly elegant Sunday dinner.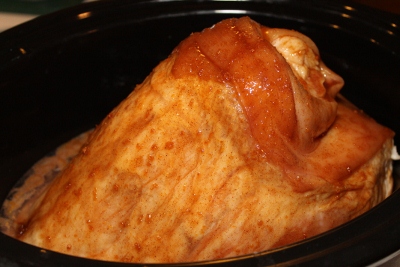 I do not use spiral sliced hams because they tend to dry out in the cooking process. Plus spiral sliced hams tend to be more expensive. You can save money by buying an uncut and unglazed ham and creating the glaze yourself. Homemade honey glaze is fast and easy to make and yields delicious results.
Ingredients
1

medium

cooked ham

1/2

cup

water

1/4

cup

brown sugar

1/4

cup

honey

1 teaspoon cinnamon

2 tablespoons orange juice

1 teaspoon grated orange peel
Instructions
Place water in the bottom of the slow cooker. Place ham in the slow cooker. Place lid on top and cook on high for 1 hour.

In a small pan, combine brown sugar, honey, cinnamon, orange juice and orange peel. Cook over medium heat until it reaches a boil.

Drizzle honey mixture over ham.

Lower the temperature on the slow cooker to low heat and cook for 3 hours.

Slice and serve.