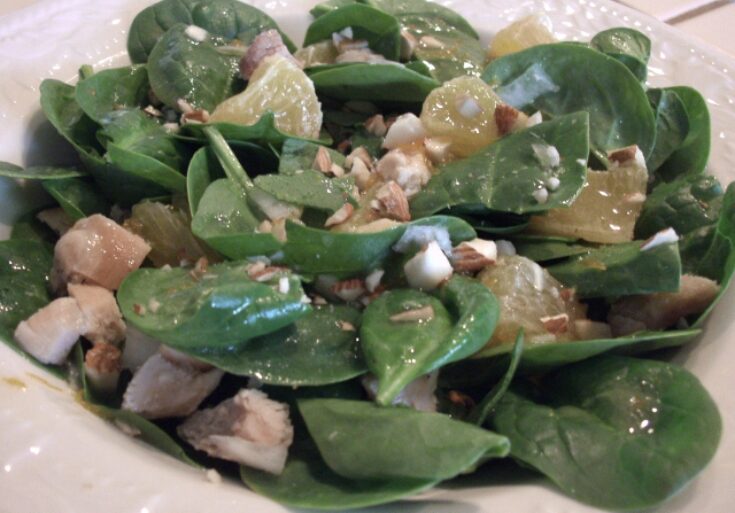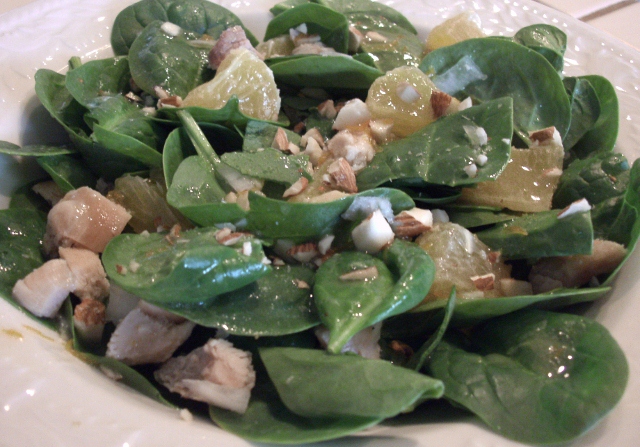 I keep thinking my life is going to slow down and I am going to get my family on a lovely schedule. I am not sure if I hang on to this vision because I am optimistic or delusional. While I would love to have orderly evenings with plenty of time to cook three course meals, it isn't happening. So on busy nights I content myself with feeding my family "Real Fast Food" – meals that are made of real ingredients and that come together faster than the local pizza company can deliver pizza.
If I make time on one day to Batch Grill or Batch Broil some chicken, it allows me to put together a satisfying salad in a short amount of time. I also wash my greens as soon as I bring them in from the garden or home from the store, so I don't have to waste precious minutes washing and drying veggies with four pair of starving eyes staring at me.
Ingredients
2 oranges

3

Tbsp

rice vinegar

1/3

cup

olive oil

2 tsp dried mustard

1

Tbsp

honey

6 8 cups baby spinach leaves, washed and dried

1/2

lb.

boneless, skinless chicken, cooked and diced

1/4

cup

diced onions

1/4

cup

chopped almonds
Instructions
Cook and dice chicken, if needed. (No cooking time if already cooked.*)

Zest and juice one orange and place the juice and zest into a small bowl. Add rice vinegar, olive oil, dried mustard, and honey. Use a whisk to blend. Set aside.

Peel the other orange. Separate the segments, then slice each segment into 4 pieces.

Add oranges pieces, spinach, cooked and diced chicken and onions to a large bowl and toss.

Divide the salads between serving dishes. Pour dressing over the top and sprinkle with almonds.

Serve Orange Spinach Chicken Salad with Orange Mustard Vinaigrette.