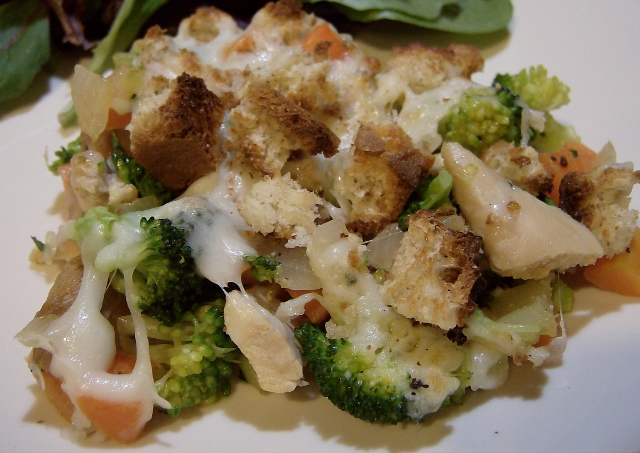 Extra curricular activities are the scourge of my existence. They are leaving me weary and interfere with my dinner plans. I have fewer helpers and less time to prepare dinner for my increasingly hungry crowd.
Food allergies prevent me from indulging in my occasional desire to pick up fast food. Food allergies also make prepackaged convenience foods cost prohibitive. So I have modified my methods to decrease the cooking time of some of our favorite dishes. Cooking the veggies over high heat in a skillet before adding them to the casserole dish reduces the cooking time of this recipe by half.
Prepping in advance saves time on busy nights.
Plan ahead to use leftover meat in future dishes or batch slow cook meat and freeze it in 2 cup containers.
Use a food processor to grate a block of cheese all at once, instead of grating what you need each time you cook. I freeze the grated cheese in 1 and 2 cup containers, but you should review your recipes to decide what would be convenient for you.
Use a food processor to chop several onions at once. I freeze the chopped onions in 1/2 and 1 cup containers.
Prepare vegetables as soon as you come home from the store. After I buy broccoli, I chop up the florets and then julienne the stems to use in Broccoli Slaw or stir fry.
Before celery turns, I dice the stalks and freeze them in 1/4 and 1/2 cup containers.
Chicken and Broccoli Casserole Recipe
Since most of the prep work was already done, I only had to mince the garlic and chop the carrots. This enabled me to put dinner on the table in under 30 minutes.
Ingredients
1 tablespoon olive oil

1

cup

diced onion

1/2

cup

celery, diced

4 cloves garlic, minced

2

cups

diced carrots

6

cups

broccoli florets

2

cups

cooked chicken, diced

1

cup

chicken or vegetable broth

1/4 teaspoon pepper

2 teaspoons parsley
Instructions
2 cups coarsely chopped dried bread ( I used Udi's Whole Grain to make this gf)

1 cup grated mozzarella cheese

1 tablespoon olive oil

1/4 teaspoon garlic powder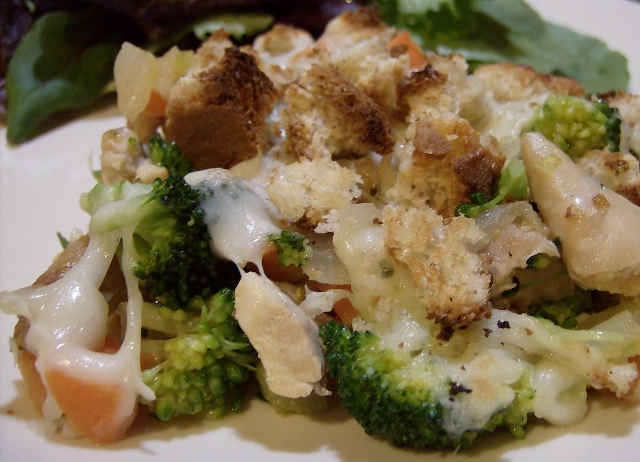 What do you serve for dinner on busy nights?