There are probably a few of you who are wondering how I get my children to eat their dinner wrapped in a leaf. Well, my oldest child is a Lord of the Rings junkie, and what the oldest kids are interested has a tendency to trickle down to the younger children…so my children pretend that food wrapped in leaves is made by elves. I am happy to listen to all of their favorite LOTR quotes for the umpteenth time, while they enjoy stuffed cabbage for dinner.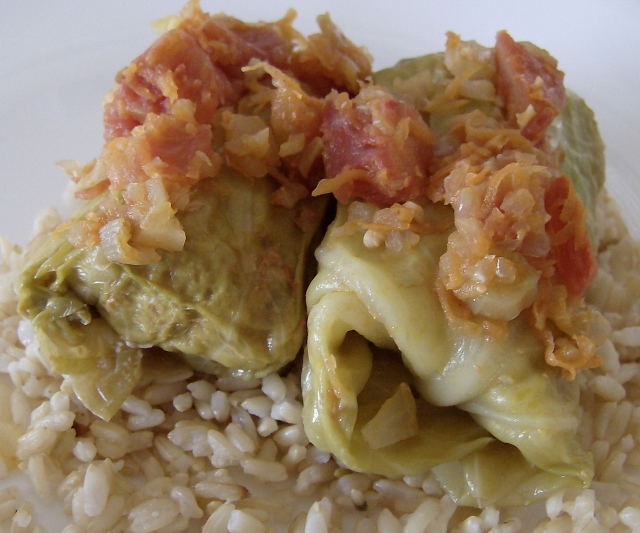 I forgot to make my rice in advance, so instead of waiting 45 minutes for it to cook, I prepared the rice in a pressure cooker. It only takes 7 minutes to cook white rice in a pressure cooker and brown rice cooks in just 18 minutes. While the rice was cooking, I was able to prep all of the other ingredients.
Ingredients
1

large

head of cabbage, cored

1 tablespoon olive oil

1

medium

onion, diced

4 garlic cloves, minced

2

large

carrots, finely shredded

2 celery stalks, diced

14.5 oz. can diced tomatoes (dont drain)

1 tablespoon sugar

1 tablespoon apple cider vinegar

1 1/4 lb. lean ground turkey

1

cup

cooked long-grain brown rice(See how to bake brown rice in the oven here.)

1/2 teaspoon coarse ground black pepper

1/4 teaspoon salt

1 egg, lightly beaten

2 tablespoons olive oil

1/2 head of cabbage, coarsely chopped

2

large

carrots, julienned

1 teaspoon garlic powder

1/4 teaspoon pepper
Instructions
Heat olive oil in a large skillet. Add onions, garlic, carrots, and celery. Saut until the onions are soft, approximately 5 7 minutes.

Place a large pot of water on to boil.

Leave half of the vegetable mixture in the pan and transfer the other half to a large bowl.

Add the diced tomatoes, sugar and vinegar to the skillet. Simmer on low for 10 minutes.

Add the ground turkey, rice, pepper, salt, and egg to the bowl, Mix well.

Remove enough leaves to make 16 cabbage rolls. Cut the denser ribbing from the bottom of the leaf. If you dont have enough large leaves you can use to smaller leaves. Place 3 4 cabbage leave in the pot of boiling water for 1-2 minutes to soften them. Remove with tongs, place the leaves in a bowl of cold water to cool. Then move the leaves to a towel or colander to dry. Repeat the process for the rest of the leaves. My Blanching System

Place a portion of the meat mixture in the center of a leaf.

Roll up bottom, then fold over one side, then fold the top down, then roll to close. Place in a greased baking dish with the seam-side down. Repeat until all of the cabbage rolls have been made.

Spoon the tomato mixture over the cabbage rolls.

Cover with foil and bake at 375 degrees for 45 minutes. Remove foil and bake for 10 more minutes.

I serve cabbage rolls with rice and use the leftover cabbage to make Sauted Cabbage and Carrots.

Heat oil in large skillet. Add cabbage, carrots, garlic powder and pepper. Cook over a medium-high heat, tossing occasionally, until the cabbage just begins to wilt, approximately 7 10 minutes.
Is your cooking ever influenced by your children's interest?