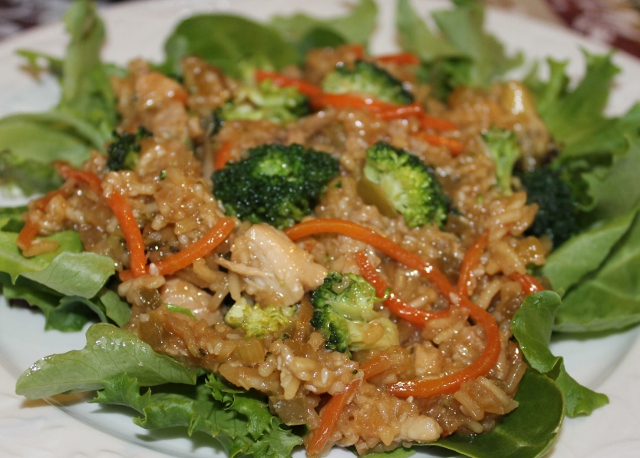 My family loves stir-frys. And I really appreciate how quickly they come together. However, some days I feel like using one pan for rice and another pan for the stir-fry is one pan too many when it comes time to clean up. It's not because I am lazy… oh who am I kidding? It's totally because I am lazy! This recipe combines our favorite Asian flavors in one easy skillet dish.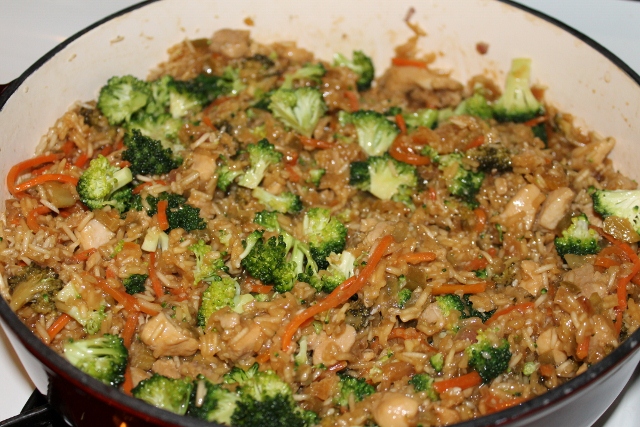 I used white basmati rice, which cooks in about 20 minutes. If you use a different rice, use one with a similar cooking time. The recipe calls for chicken broth. I make chicken broth in a slow cooker to stretch my grocery budget a little further. If you do not have chicken broth, you can substitute vegetable broth or water.
I added sesame seeds to this recipe. I save money on sesame seeds by buying them from the bulk section of our grocery store. I can buy a pound of sesame seeds for less than the price of a bottle of seeds in the spice section.
Ingredients
3/4

lb.

chicken cut into bite size pieces

1

small

onion, diced

2 celery stalks, thinly sliced

1

cup

julienned carrots

1/2

cup

bell pepper, diced

4 cloves garlic, mined

1/2

cup

rice vinegar

1/2

cup

oil

1/2

cup

soy sauce ( I use gluten-free soy sauce)

1

cup

chicken broth

1/4

cup

honey or sugar

3 tablespoons grated ginger (tip for freezing leftover ginger)

1

cup

white basmati rice

1/4

cup

sesame seeds (optional)

2

cups

broccoli, finely chopped
Instructions
Brown chicken in a large skillet with a lid.

While the chicken is browning, mix the vinegar, oil, soy sauce, honey, and ginger together in a small bowl.

Add the rest of the veggies, except for the broccoli. Add the rice, sesame seeds, sauce, and broth. Cook over a medium-high flame until it reaches a boil.

Lower flame, place lid on pan and simmer for 15 minutes.

Add broccoli and simmer for an additional 5 minutes or until liquid is cooked off.

Let stand for 5 minutes.