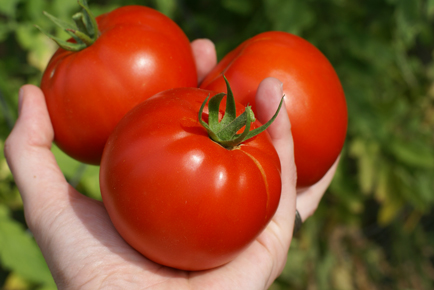 I absolutely love growing some of our food. I dream of the day when I can grow the majority of our food, but I believe that's many years off. I am still very much in the early learning stages of vegetable gardening, and hope that all the knowledge that I accumulate over the years will allow me to someday grow most of our food.
5 Reasons Why You Should Grow Your Own Food
1. Organic – When you grow your own food, you have complete control of the soil, the fertilizer, the pest deterrents, and what the plants and vegetables get exposed to (minus the natural elements.)  You can grow organic vegetables and fruits for a fraction of what you would pay for them in the store, as well.
2. Therapeutic – There is just something primal and therapeutic about digging in the dirt, tilling soil and planting seeds and plants. When I work in the garden, the world disappears and I get to help something grow.  Therapy.
3. Pioneer-ish – It takes me back to the old days. What did people do before hypermarkets and supercenters?!  They grew their own food! There's a part of me that longs for those days…the work ethic, the sustainability, the simplicity.
4. Educational – What better way to teach your children about plants, foods, the environment that with a garden. It's practical, hands on work!  There really is no better way to learn. This year, the kids will get their own planter box and their own large pot to grow seeds. I want them to take pride in the food that they grow, and the food that we grow as a family. I want them to enjoy watching the green beans grow long, and the tomatoes change from green to orange-ish to bright red. I want them to love picking the food that will be on the table minutes later.
5. Economical – While gardening does require an initial investment, over the years it will pay itself back as you learn, grow your garden and learn how to keep up with the harvests. I love that I can pick tomatoes for several months, rather than having to pay for them at the store.  My $3 tomatoes plants will produce at least $30 worth of store bought tomatoes, if not more!  Simple savings.
Now, there are many, many, many other reasons to grow your own food.  If you're not convinced, maybe one of my Facebook friends will convince you…fun, mine, self-reliance, environmental ethics, return to roots, freshness, cultivating pride, motivating kids…read more!
Do you grow your own food?! Why, or why not?!