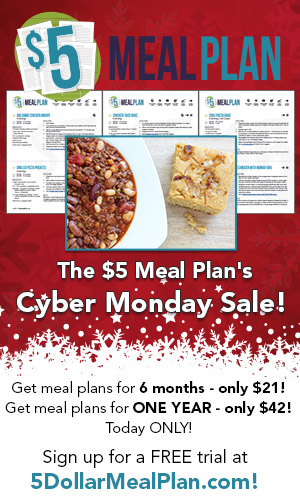 It's Cyber Monday….and we've got an amazing offer for you!
Whomever dreamt up Cyber Monday…I'd really like to give them a big ole smooch because…Who doesn't like shopping in the comfort of your own home? In your pajamas?
ME! *raises hands wildly*
If you didn't know this, I have a weekly meal planning subscription service called the $5 Meal Plan. It's an meal plan that we send you every Friday morning with family friendly and budget friendly meals from the $5 Dinners recipe database.
We've been blown away by everyone's eagerness in using the plan, as well as the community that we've built in our secret Facebook group…and we want to extend some special savings to you!
TODAY THROUGH WEDNESDAY, we're knocking off an extra 14% off the semi-annual and annual subscriptions, with the coupon code MONDAY15.
Instead of paying $30 for six months, you're paying just $23.22. (or 22.6% off)
And instead of paying $60 for a full year, you're only paying $41.28. (or 31.2% off!)
That comes out to less than $1 per week for both the annual and semi-annual options!
We also have several 6-Week Specialty Plan available and you'll get $2 off those when you use the coupon code MONDAY6. These 6-Week meal plans are 'one-time purchases,' not a weekly subscription.
But you must get your discounted membership now.
Existing members can upgrade too to take advantage of the discount, you'll get a credit for the balance of your current subscription. If you have a question, please email support@5dollarmealplan.com and we'll help you out!