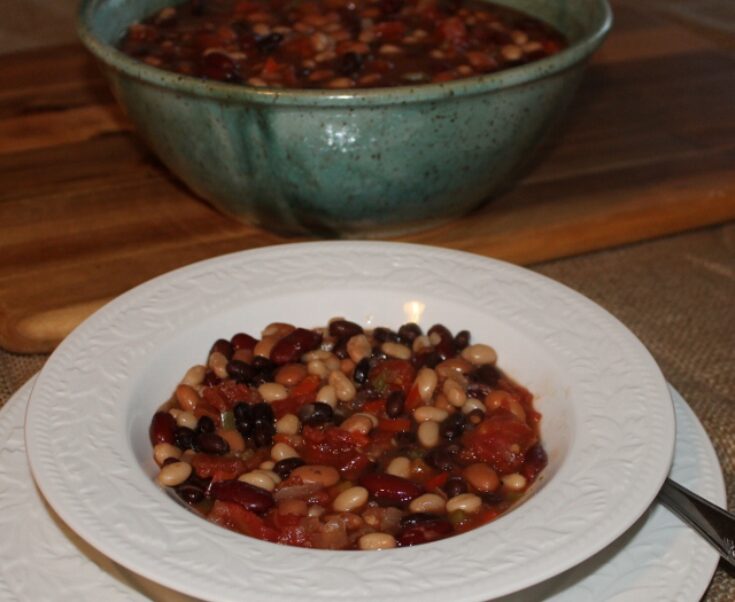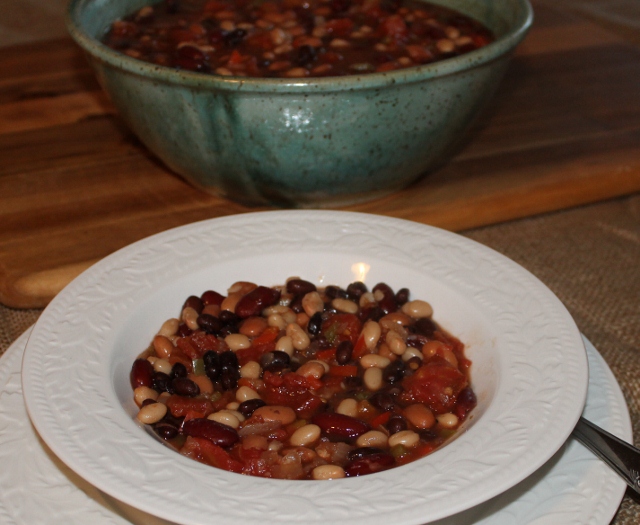 It is hard to make chili for my whole family. My daughter likes her chili very mild and my husband likes his eye-watering hot. The only thing they agree on is that the chili looks pretty when I use different types of beans. So I use lots of different types of beans!
How much heat I add to this recipe depends on who is going to be home for dinner. If my daughter is working late, I make it with chipotle peppers (smoked jalapeno peppers) and 2 tablespoons of my chipotle seasoning mix. If my husband is working late, I make it with bell peppers (Yes, really, bell peppers! I told you she liked it mild.) and only 4 teaspoons of chipotle seasoning mix.
I occasionally make a medium heat chili when everyone is home by using deseeded jalapeno peppers or Anaheim peppers and about 5 teaspoons of seasoning mix. My sons and I like it, but my husband adds hot sauce and my daughter digs into my baking supplies and eats Andes mint pieces between bites of chili.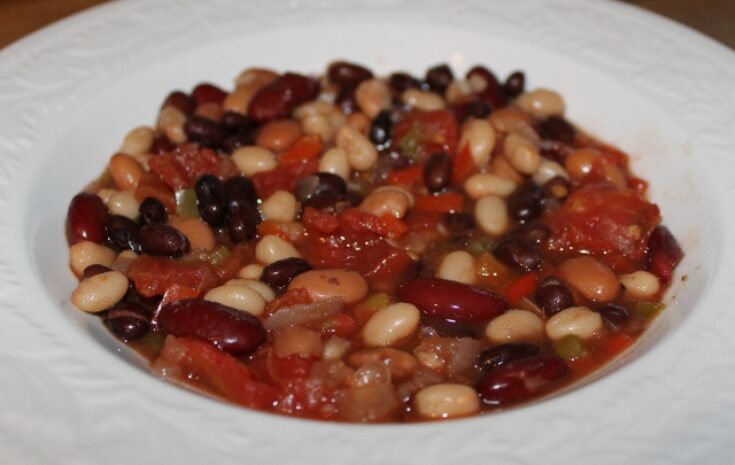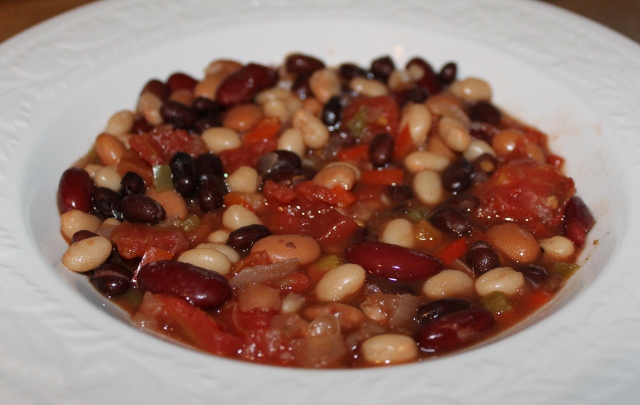 This recipe is quick and easy to make. You can use canned beans, but I make this recipe more frugal by using beans that I have cooked from scratch on my batch cooking day. I am also able to save money by using onions, peppers, and tomatoes from my garden.
I make my own Chipotle Seasoning Mix fairly inexpensively by buying ground chipotle peppers at a Mexican market. If you don't have access to the ingredients to make a chipotle seasoning mix, you can replace it with 2 -3 teaspoons chili powder, 1 teaspoon smoked paprika, 1 teaspoon cumin and 1/2 teaspoon garlic powder.
While I am at the Mexican market, I also pick up cans of chipotle peppers in adobe sauce. This recipe only uses about 1/4 of one can of peppers, so I divide up the extras into 1/4 cup quantities and freeze them for future use. If you can't find chipotle peppers, use jalapeno peppers instead.
Ingredients
splash of olive oil

1

small

onion, diced

1 3/4 cups or 15 oz. can cooked black beans(Or learn how to cook your own beans here.)

1 3/4 cups or 15 oz. can cooked kidney beans

1 3/4 cups or 15 oz. can cooked pinto beans

1 3/4 cups or 15 oz. can cooked white beans

4

cups

or 2 14.5 oz. cans diced tomatoes

1/4

cup

diced chipotle peppers (or jalapeno peppers or bell peppers)

4+ teaspoons chipotle seasoning mix (How to Make Chipotle Seasoning)
Instructions
In a large pot, saute the onion in oil.

Add beans, tomatoes, pepper, and chipotle seasoning mix. Cook over medium high flame until it reaches a boil.

Lower heat and simmer for at least 10 minutes. You can let it simmer for longer if you have time.