This giveaway is now closed…and here are the winners:
$100 Amazon Gift Card Winner:
Jessica says, "Joined Buxr.com"
10 Buxr Shopping Totes Winners:
Teresa likes, "http://www.buxr.com/deal/free-tee-and-free-shipping-with-a-25-purchase_63778"
Erin H. says, "I'm a facebook fan of Buxr!"
Michelle T. says, "My favorite is: http://www.buxr.com/deal/gap-40-off-your-entire-purchase-w-printable-coupon-in-store_63869 Looks like a useful website!"
Lia S. says, "And I subscribe via email. Thanks!!! :)"
Alicia's Homemaking says, "I subscribe via RSS! :D"
Sherrie says, "Facebook fan!"
Cris R. says, "Joined the Buxr community"
Pleshette says, "subscribed via email"
Carolyn says, "http://www.buxr.com/deal/crabtree-and-evelyn-bogo-50-off-storewide_63720 I love Crabtree and Evelyn! Thanks for the giveaway!"
Carrie says, "I'm a facebook fan!"

Heard of Buxr.com yet?! It's THE place for online bargain shoppers!
Buxr is the place to connect with other frugal minded online shoppers.  Once a member of the community, you can suggest deals, vote for others deals, find the HAWTEST current deals from online retailers from all across the web.  You can also earn daily cash prizes!!!
Example…
Let's say you find a deal on LLBean for kids snow boots for just $5 shipped. Not a bad deal.  Well if you get a ton of "votes" from other community members on your deal, then you'll win the cash prize for the day!
If you are a blogger, you can install the Buxr widget and earn a commission on any purchases of the deals purchased your widget.
If you want to "see" how this works, visit Buxr.com and click on Watch Video in the upper right hand corner. This is a great resource for all you online bargain hunters!!!
Onto the giveaway…One of you will win a $1oo Amazon Gift Card, and 10 others will win a Buxr Shopping Tote, shown below.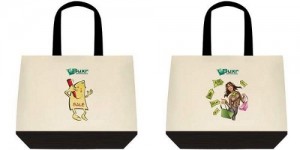 You can always use another shopping tote. At least that's how I feel about them!
Entry Details below…
Giveaway Details
1. Contest ends Wednesday, October 13th at 5 pm EST. Winners will be announced back here on this post, and notified via email with further instructions.
Entry #1: Stop on over at Buxr.com and pick your favorite deal.  Click on the deal and then copy and paste the URL and leave it back here in the comments. (Let's share the deal love, shall we?!)
Tweet the following: Enter to win a $100 Amazon Gift Card from @buxr and @5dollardinners! http://bit.ly/buxrgiveaway
Bonus Entry: Join the Buxr Community and start suggesting deals, chat with other like minded deal hunters, and win prizes too!
2. Winner will be selected by Random.org.
**NOTE: If you receive the email newsletter and wish to enter this giveaway, click here and leave a comment on the site with your name and email address to be entered! Email entries will not be included in the contest.