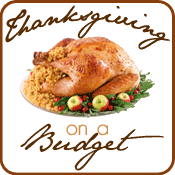 I have really enjoyed experimenting with butternut squash recipes this year!
This one is a keeper!  A fantabulous side dish!
Ingredients
1 large butternut squash (about 2-3 pounds) ($1.50)
1 Tbsp extra virgin olive oil ($.10)
1/4 cup maple syrup (free – $1)
Few dashes each of ground cinnamon, nutmeg and allspice ($.15)
Directions
1. Chop off the stem and bottom of the squash.  Using a vegetable peeler, peel off remaining skin.
2. Cut the squash in half crosswise just above where it gets larger, or where the seeds live.
3. Using a spoon, scoop out the seeds.
4. Dice the whole squash into 1/2 inch cubes.
5. Place squash into an 8×8-inch glass baking dish.  Sprinkle with olive oil and maple syrup.  Toss.
6. Add a few dashes each of ground cinnamon, ground ginger and allspice.  Toss.
7. Bake uncovered at 400° for 30-35 minutes.
8. Serve Maple Roasted Butternut Squash with your Thanksgiving Feast. 
Serves 8.
Cost $1.75-$2.75